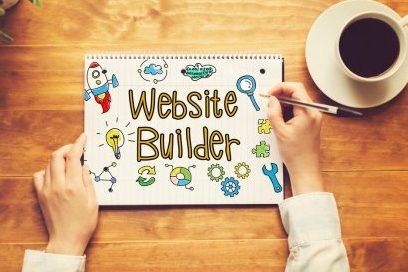 What is a Website Builder?
"If your business is not on the internet, then your business will be out of business." – Bill Gates, Founder of Microsoft.
Every business is today, spending time, effort, and money to build a website for their online identity. Every business owner wants to have a great website that can speak everything about their business.
More and more people are online 24×7 looking for products or services on the internet. They are searching for a business like yours to meet their desires.
If a business wants to connect with large customers, then the website is vital.
Almost every business owner understands the importance of having a website. It doesn't matter whether you own a small, medium, or big business, a website is a must for the success of any business type and business size.
But if someone asks you to define a website, how will you define it?
In simple words, a website is a collection of web pages on the World Wide Web.
Every person while searching online have visited websites. A typical website homepage has lots of stuff- textual information, images, videos, menus, navigations, and links. All aims to provide seamless experience and understanding to browsers about who you are, what you do, and how you do.
A website can be one page or consists of ten pages or even more, depending on what the website owner is trying to accomplish.
Just Imagine, without an online presence, you are missing opportunities to connect with customers. The website is your identity that tells who you are, what you do, and how you do.
There are two main types of websites and they are called static and dynamic.
Static or Basic Websites
Static websites are basic websites with one or more web pages. It is easy to create with HTML and CSS coding. You don't need to know web programming and database design to create a static website. You can build them with software like Dreamweaver and then upload the pages to your host's server using any FTP software.
Any changes that you need to make to your website cannot be modified dynamically. That is the reason why they are called static websites because the codes are fixed for each page. It means every time when you want to make changes, you have to edit the pages on your computer and upload them again. Static websites are cheaper than dynamic websites but come with limited functionality.
Dynamic Websites
Dynamic websites contain web pages that are created in real-time. It uses server-side languages such as PHP, ASP, JSP and SERVLET for developing a website.
It accesses information from a database or Content Management System (CMS), allowing you to directly edit and add content like text, photos, videos. Content can be generated quickly and changes regularly. That is the reason why they are called dynamic websites. The web page may change with the time of the day.
Dynamic websites are better for businesses and organizations. E-commerce sites and social media sites are dynamic websites. Dynamic websites that access information from a database are also called database-driven websites.
What is a website builder?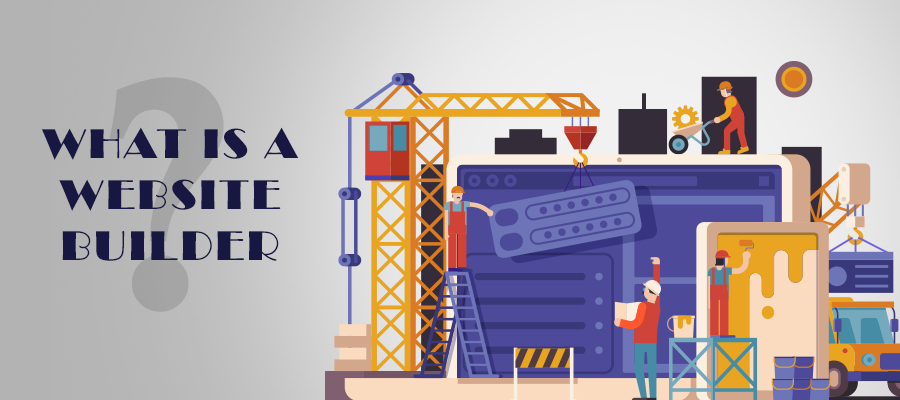 Not every business owner has the knowledge and skills to create a professional website. Some take the help of professionals to develop a website while others look for a website builder.
You must be thinking, what a website builder is?
A website builder is a program that allows the construction of a website without entering any manual coding. Basically, it is designed to provide all support to a person who wants to create a website on his own. One just needs to drag and drop editor to build pages of the website.
Anyone who has no knowledge or little knowledge of website creation can use a website builder to create a beautiful website in a few minutes and go live.
Website builder provides you with a wide range of templates. You can choose a template for absolutely different purposes.
There are two types of website builders. The first one is the online website builder, and the second one is the offline website builder. Let's know both of them.
Online Website Builder
The online website builder is a web application, so you don't need to install it on your computer. But you need to have an internet connection to work on every process related to your website. For instance, www.website.com is an online website builder.
Offline Website Builder
The offline website builder comes in the form of software programs that you need to install on your computer with an internet connection. After you have finished installing the software, you can start working on your website without an internet connection. For instance, Mobirise, Adobe Muse, to name a few are an online website builder.
Who can use Website Builder?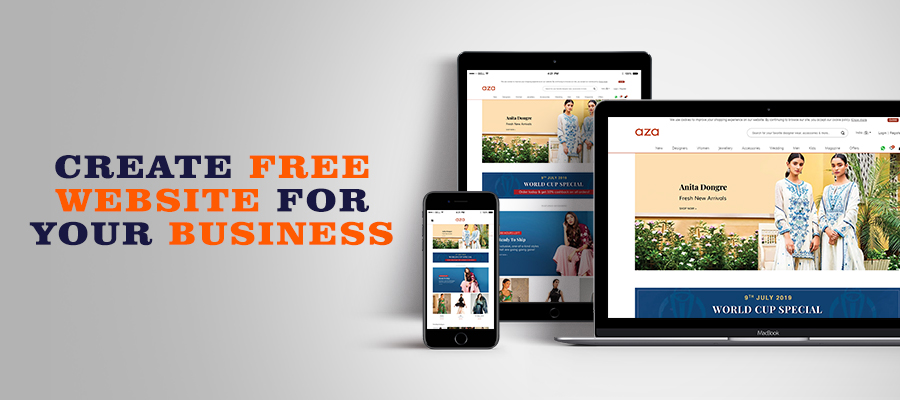 Almost everyone knows the importance of owning a website. We can deny, having an online identity like the website is one of the important tools for businesses to be successful.
It is relevant especially when people these days are already shopping through online. If businesses want to strive, a website is really required
Today, creating a website has become easier than ever with the website builder. Anyone can use a website builder depending on their needs and purposes.
Those who are looking to launch the website quickly.
Those who lack technical knowledge and skills on website creation.
Those who don't want to decide on software or content management systems.
Those who have no big budget to hire a programmer for website creation
Benefits of creating a website by your own
Creating a website on your own offers you more flexibility and many advantages.
You get more freedom over the visual design.
It is you who is creating a website, so you have full freedom to choose a design that you like the most. Depending on your website objectives, you can choose a template, font style, and images that define your website.
You can customize the code to make your website look and performance exactly the way you want.
You always have the fair chance to improve the look and feel of your website. You are given options to make changes when you want without spending hours in writing code. You can work on the design elements of the website and make it attractive exactly the way you want it to appear in front of the people.
You have limitless power to add types of functions to your website.
You can add features and functions that will directly contribute to your website objectives- increasing subscribers, sales, or visitor engagement.
Once built correctly, they are easier to scale so you can handle levels of traffic.
Your well- designed website can easily scale up the performance of the site among the audience. You can handle the visitor's traffic to your website.
You can move your site more easily between web hosting providers.
You need not have to worry about moving your website to another web host. Your site would remain happily houses at the current hosting provider's facility.
Any day, if you feel your current web host is not giving what you need, you can always shift to a better one. Anyway moving your website to a new web host would not be tiring if you follow the right steps.
Creating an online presence is easier than ever. There are numerous website builders available online, and you can choose the best one that matches your goals.
1. Choose your website builder
Regardless of technical knowledge and skills, anyone can make a website. Thanks to a website builder that doesn't make website creation a daunting task. Wix, Shopify, Big Commerce, Squarespace, Volusion, GoDaddy, to name a few, are website builder that allows you to create a website to showcase yourself Infront of the people.
Shopify: Shopify is the best and most comprehensive e-commerce website builder that allows you to market your business both through the website, and across multiple channels like Facebook, Amazon, and Pinterest.
Wix: Wix is ultimately a user-friendly platform ideal for small businesses and independent entrepreneurs.
BigCommerce: BigCommerce is for serious businesses who are looking to scale up fast.
Squarespace: Squarespace has design and some stunning templates that really allow your products to stand out.
Weebly: Weebly is easy to use and comes in great value for money.
Volusion: Best for analytics, Volusion helps to facilitate the process of hosting your online store.
GoDaddy: Best for building a website fast, GoDaddy is one of the largest domain registrars and hosting service providers in the world
2. Sign up for the right plan
Once you've decided and are happy with your choice on an e-commerce website builder, next you need to sign up to the right plan so that you can start the process of creating your online store. Different levels of plans come with different features, with different rates. Obviously, depending on the size, structure and marketing goals of your business, you need to find out the right plans that suit you best.
Here, the rule is simple.
"The more you pay, the more you get.
The less you pay, the less you get".
If you're planning to sell a lot of products, you'll need a better plan. However, a simpler plan with lower rates may be suitable when you're not planning to sell a lot of products.
3. Choose a domain name
Well, we all have heard the word domain name. How many of us really have an idea of how domain name looks like?
For example, Amazon, the online shopping company has its website under the URL and domain name https://www.amazon.in
Here the domain name is amazon.in
This is the primary domain. It is what customers see in the address bar and Google searches.
Therefore, think of your domain name like the signboard on the street that directs you to destination.
Similarly, your company or business domain name is the signboard that directs people to reach you.
Come up with a good domain name to launch a successful online store. Because your domain name is your identity in this digital world. Customers will recognize you and search for you by the domain name.
4. Pick your template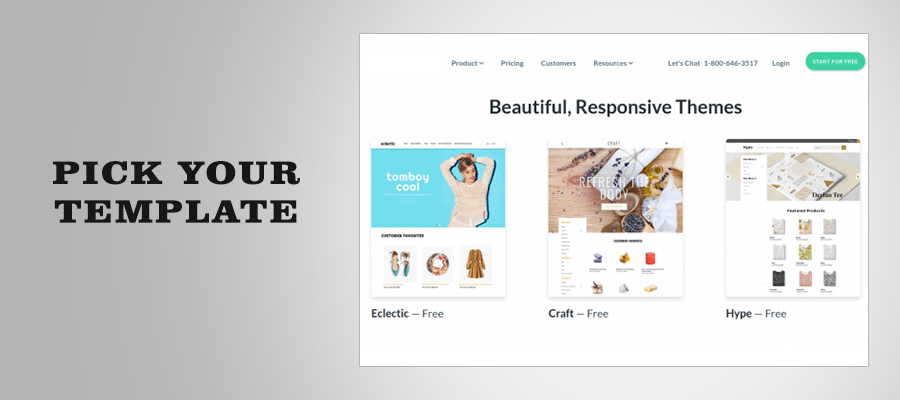 It is important for a website to appear beautiful and appealing to attract visitors' traffic and increase engagement.
Without being a design expert, you can make your e-commerce site look amazing just by choosing the template that defines you. Selecting a template in a website builder is easy. All you need to do is select a template according to your business requirements.
The template also offers you options for font, text size, color scheme, images, positioning of products, features, embedding social media.
5. Customize your template
Keep in mind to create a unique look and feel for your website. Web builder gives you dozens of templates, a range of colours and font styles to design your site in an attractive way.
Customize your template based on the type of business you are in. Are you a beauty product selling the company? Or a company that sells musical instruments?
Choose the theme and template that matches the persona of your business.
6. Preview and test your website
After you have finished creating your online store, testing it.
Why? Because it helps you to know how your e-commerce website will look and customers interact on your site. Testing is the best way to make sure you satisfy your customers' needs.
7. Publish
Once all is done and you are ready to go live, press the 'Publish' button. Your site is live for the people to see. When needed, you can, of course, make changes.
So, if you are thinking to go for online business, use these tips and start your online journey today for better tomorrow.
Benefits of a website builder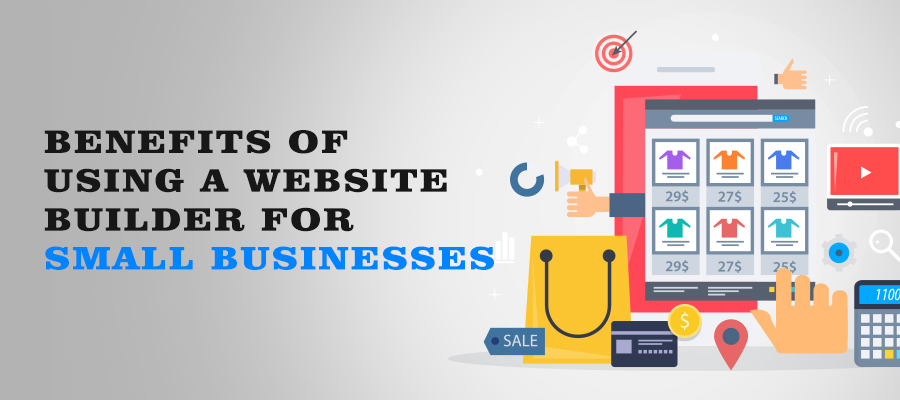 With a good website builder, you can create a website in a few minutes and run in no time. Are you a beginner or an advanced user? It doesn't matter at all since a website builder can be used by anyone.
Let's look at the benefits of using a website builder, especially for people who are not tech- savvy.
1. No programming or technical skills required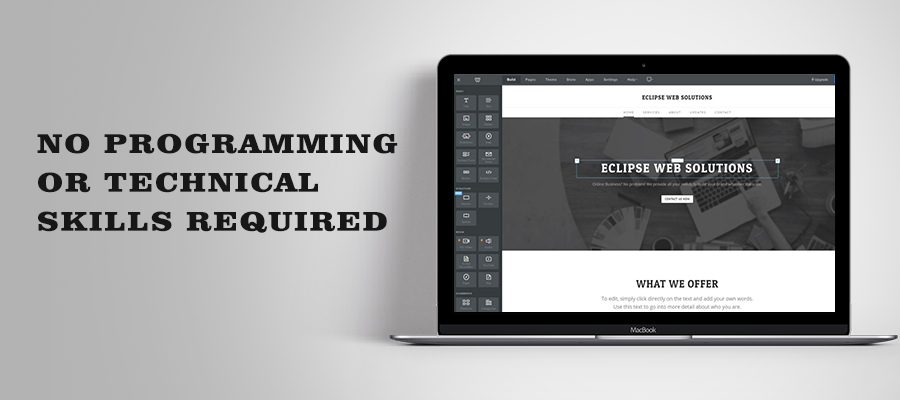 Website builders are designed for people who either have no knowledge or little technical skills. When a person picks a website builder, he does require to learn various kinds of programming language or coding for website creation. There is no programming language, no coding, no HTML.
Website builder comes with readymade themes and templates. The easy to drag and drop method and user-friendly interface design, allows any person to type in a text, upload images, or change and move any element with a simple click and drag of the mouse.
Website design can be edited at anytime from anywhere since it is online based. It means your web files are hosted on the service provider server, not your own computer. You can log into your account, make the necessary change and click save or publish and your changes are live. What you need – a web browser and an Internet connection.
2. No design talent required
Since website builders are already designed professionally, it doesn't require a person to be master in website designing. What it requires basic ability and understanding about graphic design, which these days everyone has.
One can choose a professionally-designed template that goes well with the business.
Templates are one of the best features of a website builder. And, almost all website builders let you select the template that fits your needs and style.
3. Libraries and collections of applications
Almost all website builders come with a library of free applications and tools. You can use those to add functionality to your website.
There are free and paid applications. Some are built into the website builder, while others are fully-integrated third-party tools.
For instance, Website.com comes with built-in apps that you can easily add by the drag and drop editor.
4. Your website is up and ready in no time
Website builders simplify the entire process of website creation. Every stage of creation is easy, without any coding.
With a ready to use applications and tools, one can start choosing a theme, template, font style, colour, and images.
You can add your text-based content. Once you are done, click on the 'Publish button' and your website is launched in no time.
5. Regular maintenance of website is easy
Regular maintenance of a website is a must if you want your website to perform successfully. Visitors are always searching for something new, so it is important that you provide them with new and exciting information.
Since website builder has drag and drop editor and easy to use interface, so one can make changes and updates to websites anytime whenever required.
6. No big budget require to build a website
There are plenty of free and paid website builders for your website creation. Hiring a website designer who asks for a big amount for their service could cost you more. However, website builders with paid plans are also reasonable compared to hiring a professional website designer.
You can always choose a budget-friendly plan. Definitely, you are saving a lot of money with a website builder since you don't have to pay unnecessary charges of using it unlike hiring a website designer.
Besides, many website builders come with free hosting services and free domain names. For instance, website.com even gives free domain email services.
Going through all these benefits, it is not wrong to say website builders are of great help for business owners. Website builders come with all the necessary tools that save a person time, energy, and money on designing a website.
Website builder is definitely the best to use by business owners and even non-business individuals because of its advantages.
It is the best solution for anyone who is looking to create a beautiful website easily and quickly.
How to choose the best website builder?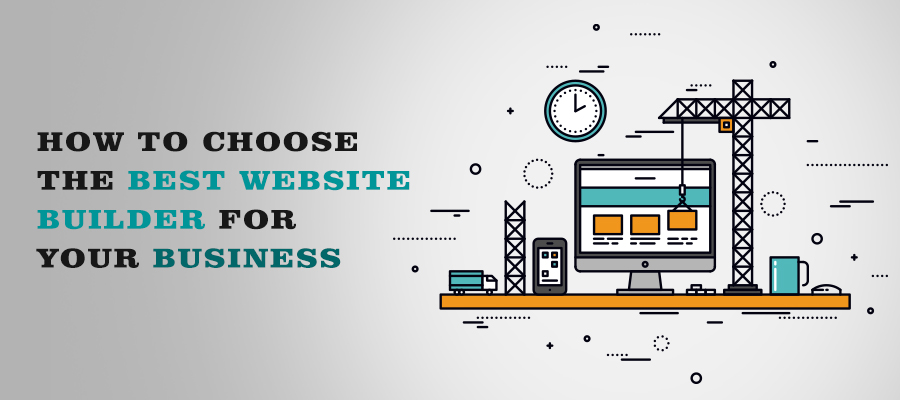 Website builders are a best solution for business owners and individuals who want to start a website on its own without hiring any website designer.
However, figuring out to choose the best website builder for your website can be tricky. There are hundreds of website builders you could choose, but how do you know which one is right for you?
To select the best from the rest could be tough and at the same time confusing.
Considering your budget, the features you need, and how long you need your website to be hosted, you can select the website builder.
Some website builder gives comparison quiz to know your considerations and get you closer to the top website builder choices. Take such quiz and see which website builder fits your needs.
Below is the example of quiz given by website builder, Shiver Web that tries to know considerations behind creating a website?
What is Your Primary Website Goal?
Build an Online Presence for an Offline Business or Project.
Build an Online Hub or Sales Channel for Business or Project.
Build an Online-only Business or Project.
What is Your Design Preference?
Pre-Built Themes w/ Ability to Edit HTML & CSS.
Drag & Drop Tools w/ Ability to Edit HTML & CSS.
Drag & Drop Tools w/ Pre-built Templates.
What is Most Important to You?
Convenience & Design.
Price & Flexibility.
User Control & Versatility.
How Will You Typically Manage Your Website?
A Different Devices, i.e., mobile, desktop, tablet.
Desktop or at set times.
Desktop w/ potential 3rd Party Support, i.e., consultants, designers, etc
What is Your Primary Website Goal?
1. Determine Your Budget
The first and very important thing you need to do is set your budget. Start considering other costs involved in website creation and figure out what you can afford with your website.
There are free and paid website builder.
Every website budget has to pay for domain registration and hosting anyway. And you'll likely need to invest in images and copy for your website.
Many paid website builders charge between $5 to $40 a month for plans. Check out their features to see how they meet your needs. If your budget is tight, you can save money by looking for plans that bundle different website services you need.
2. Consider Your Needs and Priorities
Before deciding the website builder, give some thought about how you want your website to appear and what you want it to do. This will clarify your priorities, and you would know what to look for in your website builder.
Here are a few good questions to consider related to website creation
What kind of experience do you have in design?
Most websites builders are designed for people who have either no knowledge or little experience with website design.
If you are someone who has zero knowledge on website designing, it is better to look for a website builder that offers readymade theme and templates and easy drag-and-drop design options.
How particular are you about getting things just right?
If you want flexibility and a lot of options to design your website, then the best website builder for you will be one that provides a lot of templates to choose from or gives more flexible editing options so you can make extensive changes to the design.
Do you need an online store?
An e-commerce website needs to include a shopping cart and check out functionality. It will require a design that encourages people to take that next step of making a purchase. While choosing your website builder, consider are they offering the right templates and features to enable an online store.
What types of media will you include?
Will your ecommerce website include a photo gallery? Video? A blog? Articles? A map to show the geographical location of your store?
Make sure your website builder can support the types of content that you plan to include on your website.
And, you also need to make your website mobile-friendly. Make sure any website builder that you choose provides responsive website templates or other options to ensure that the site works well on mobile.
3. Consider the Number of Themes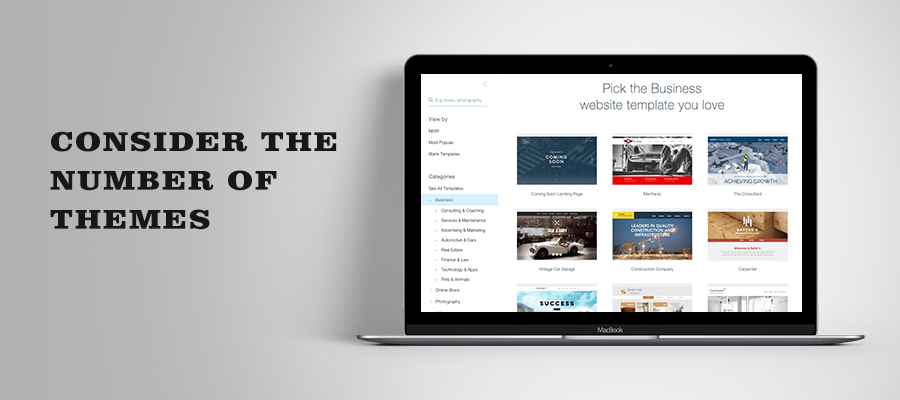 The design process of your website starts with the theme that the website builders provide. You can select one theme from the available options and customize the look of your website.
You need to make sure the website builder you choose has a good number of themes, so you'll be able to find one that makes a good starting point for your website.
Everything else will be much easier once the theme you use is a good fit for what you have in mind.
1. See How Easy It Is to Use
It doesn't matter which website builder you choose for website creation. But you can be sure on one thing that it will be much easier to use than building a website with HTML coding and programming.
But it doesn't mean you can quickly figure out the best website builder.
Try to find a website builder that has an intuitive editor and easy drag-and-drop functionality to make each change easy to complete.
Spend some time to research the reputation of website builders. Read user reviews, customers rating, clients, and then decide to go ahead with the most trusted and reputed website builder for desired results.
2. Look for SEO Features
After you are done with your website creation, you want people to reach you, right?
For this reason, you need to implement SEO features to increase the visibility of your website.
A good website builder includes SEO features that make on-site optimization simple. You may want an easy way to update all the SEO meta elements on each web page and put your website on the search engines.
On-site optimization is an important part of SEO, and the right website builder will give you way in getting it done.
3. Check Out the Resources and Support
Check the website builder that you are considering to use for website creation has resources that help you to learn all the ins and outs of how it will work.
Ideally, website builders come with tutorials. The tutorials tell you how to use different features to implement the design as well as making changes to design your website.
Learn from these video or textual tutorials, and find out does your website builder provides resources in the format that works best for a website.
Lastly, it can be said the best website builder is the one for all business owners and individuals that has the following things.
First, it is budget-friendly.
Second, it is extremely easy to use.
Third, it provides e-commerce options
Fourth, it supports different forms of content.
Fifth, it offers more than 100 responsive themes
Sixth, it supports SEO features
Seventh, it comes with helpful tutorials showing you step by step process for website creation.
Best Website Builders
A few years ago, creating a website used to require a lot of knowledge on programming language, coding, and domain registrars.
However, all that has changed, and creating a website today does not require to learn coding skills to create the website of your dreams. All thanks to website builders for making the tedious task very simple and easy. Making a website has never been easier.
Anyone can now create a website quickly using a "point and click" site builder. Absolutely no code or design experience needed, click anything to edit, publish instantly and go live.
But having said this, with dozens of site builders available these days, choosing a fitting one may seem like a daunting task.
Here is the list of top ten website builders that offer a perfect solution for website creation.
Wix is the website builder that helps to create professional and functional websites. You get the freedom to design a website of your choice and exactly the way you want.
Whether you are a beginner or a long-time expert, it doesn't matter at all. Wix is for everyone and every kind of business.
You can pick from over hundreds of designer templates to create a professional online presence with your own domain.
The easy drag and drop feature, allows you to change, customize, or add anything to your site.
Be it a desktop or mobile, with Wix you can create a website that looks great on every device. One can find features and solutions, along with creative freedom.
Wix is simple to use. You get the whole package in Wix, including a website builder, reliable web hosting, top security, and the best SEO for your website.
Over 150 million people worldwide choose Wix for website creation and manage their business online the way they want.
Web starts is a free website builder that helps you to create a website, online store, or blog. You can truly convey the value of your products or information with a beautiful custom website.
With Web starts, the process of getting your very own domain name is automatic. You simply need to click on the add domain icon in your account, choose the domain you want, and go live on the web in minutes.
It is so easy that anyone can use it. You can select a design from hundreds of templates and change virtually every element of your page with drag and drop editor.
It provides you the flexibility to upload photos from your own computer then place them where you want them to appear on your website. Nevertheless, you can add audio, video, forms, slideshows, widgets, and much more stuff.
WebStarts is the first website builder that provides you with ways to show up on search engines like Google when people search for keywords and phrases. Making a website with WebStarts assures you that people are going to find your website
From the student to the biggest corporation, anyone can create a great looking website with Webstarts.
Weebly is a free website builder and a very popular platform that allows anybody to build their own websites quickly and with ease. It is user-friendly and intuitive
With Weebly's drag and drop website builder, you can build a professional website without any technical experience, without knowing any HTML at all.
It gives you access to customizable webpage designs and useful tools to build a free website that is ideal for growing your business.
Weebly can build websites that people love to visit and shop.
You can build a professional, mobile-optimized site with integrated marketing and advanced analytics.
You can also tackle the manual hassles of running a successful online store by simplifying shipping, taxes, and inventory management.
Currently, Weebly powers millions of businesses on more than 50 million sites around the world. Tell your story with a beautiful website, online store, or blog.
WordPress is the easiest place to make a website that's your own. It is flexible enough to suit everyone – small business websites, online shops, bigger corporates.
You can choose from more than 350 easy-to-use themes for any type of business, portfolio, or blog.
You can get a custom domain and create a secure website with tons of features. Your site will always be secure and automatically backed up since anti-spam protection is built into every WordPress.com site.
You can add advanced galleries; embed audio, video, forms, email subscriptions, sophisticated comments, polls, and much more on your site. WordPress comes with versatile plans and pricing so that you can select a budget-friendly plan.
Strikingly is a feature-rich website builder tool for website creation. It enables people with no experience to quickly create modern and amazing websites on both desktop and mobile devices. It is trusted by millions of entrepreneurs and creatives.
Strikingly is the perfect solution for you if you want to design single page responsive websites. One-page sites are great for portfolios, online business cards, and presentations.
You can use custom templates and elegant design features, powered by a powerful and intuitive drag and drop editor tool that helps you to place elements on different sections and then edit their properties.
Like most drag-and-drop website builders, Strikingly is easy to use. This modern website builder is perfect for creating a personal, small business or small e-commerce websites.
Strikingly comes with three plans. The first option is a free account, the second option is the limited plan and the third option is the pro plan.
Web is the website builder that can make you your own website maker. It has the tools to help you create a professional or stylish website quickly and effortlessly.
The easy to use tools and basic editor of the Web makes it a great choice for a beginner.
It gives you an industry-specific template with free photos, headings, menus, and other content, potentially saving a lot of time and hassle. With hundreds of template designs, thousands of free images and customizable texts, you have the option the choose the right one that goes well with your website.
The website builder, Web is good at optimizing your website for Google, Yahoo, Bing, and many others so that people can find you on the web.
It comes with three affordable packages.
Jimdo is an online platform for building a website or creating an online store- all without having to use the code. You can use it to buy a domain, design and host a website, blog, and sell products online.
In recent years, Jimdo has become one of the major website builders worldwide. The reason is its pricing, product features, possible integrations, and overall ease-of-use
If you want to take your business online or improve an existing online presence, Jimdo is a great option. It is one stop shop that provides a solid website builder that shines when you are looking for an affordable, easy-to-use tool to create a personal or small business website.
You can build a website in a matter of a minute and go online. Once live and running, it allows you to accept orders from buyers from all around the world.
Jimdo comes with five plans. These five plans are available as 'Play', 'Start', 'Grow', 'E-Commerce', and 'Unlimited'. You can choose any plan that is right for you.
Jimdo's free plan allows you to build a 5-page website using a Jimdo subdomain (i.e., www.yourdomainname.jimdo.com).
The possibilities of creating websites are endless. You can create any type of website you want with Jimdo—a business or personal website.
Simvoly is a super-easy website builder with a seamless drag and drop interface that lets you set up a website in a jiffy.
The website builder has been designed to help brands, agencies, and freelancers build websites, online stores, blogs, and funnels in minutes.
It enables users to turn ideas and passions into reality without the need for IT skills. It allows non-technical users to create websites without the help of website developers and designers.
Simvoly offers a wide selection of fully customizable themes, ensuring that there is a theme for everyone with which they can relate their website. The themes are divided into three categories- online store, funnels, and website themes. The three categories provide a variety of themes that suit businesses in art, fashion, photography, real estate, restaurant, schools, real estate, consulting, membership. The wide selection ensures that everyone finds a theme to develop a website that they want without a struggle.
In addition, Simvoly allows you to do A/B split testing that helps you analyse your traffic, track conversions, and derive sales analytics.
Simvoly comes with five plans. These five plans are 'Free Trail', 'Personal', 'Business', 'Growth' and 'Pro'.
Squarespace is a drag-and-drop website builder that empowers people with creative ideas to create a professional website, portfolio, or online store.
From individuals and local artists to entrepreneurs, it lets everyone to create an impactful, stylish, and easy-to-manage website without coding. No matter what kind of site you need, Squarespace is the best way to stand out with a killer website.
Squarespace has the best quality designs and features for website creation. It offers more than 100 stunning templates that are responsive to both computers and mobile phones. No other website builder can compare to the clean, modern templates of Squarespace
Impressive themes, beautiful customization, and quality features are all at your fingertips. The big plus point of Squarespace is you can switch templates without losing any content.
Squarespace is intuitive to use and everything is so thoughtful in terms of design and flexibility, making it the Apple of website builders. Your website will appear like an expert right from the start.
It offers four plans at affordable prices. The four plans are Personal, Business, Basic Commerce and Advanced Commerce. Each plan comes with unlimited pages, unlimited bandwidth and unlimited storage. Squarespace also offers a 14-day free trial to the user.
Shopify is a website builder that allows you to build a website to sell and promote whatever you wish. It provides you with a wide range of templates that can be customized to meet individual users' branding requirements. You can organize your products, customize the appearance of your online store, accept payments (online and credit cards), track and respond to orders, and you can do it all within Shopify's interface.
No matter whether you are just starting your business or you are looking for a way to take your business to the next level, Shopify has something to suit you.
You get to choose from over 100 optimized online store designs, so you don't need to have design skills or hire a web designer.
The designs that Shopify offers are really top-notch and optimized to generate good conversion rates from your visitors.
Shopify is a hosted solution for you, so you don't have to worry about buying web hosting or installing software anywhere. You can try Shopify free for 14 days without any payment.
There are five Shopify pricing plans- Basic Shopify, Shopify, Advanced Shopify, Shopify Lite, and Shopify Gold.