Best VoIP Phones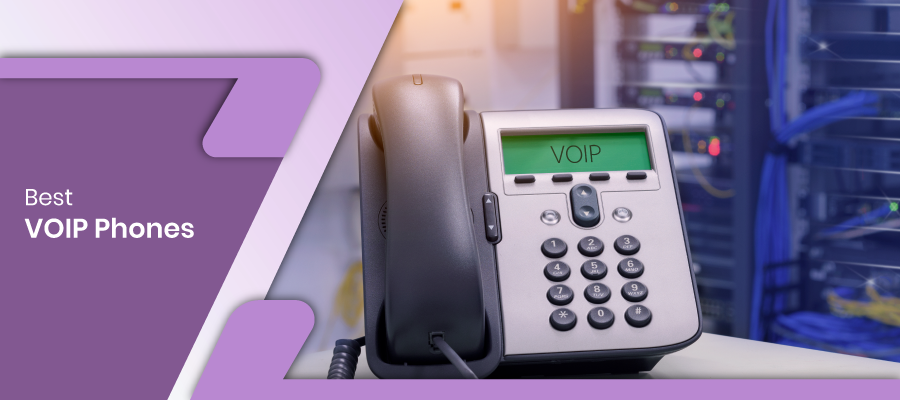 Several brands of VoIP phones are available in the market. Finding the one that suits your budget and business needs can be daunting, especially for start-ups and small businesses. While venturing into a new domain, make sure you analyze what it is going to be used for and how many teams in your organization will be using it. Discuss with your IT and data security staff and consider their inputs in this decision.

Voice over Internet Protocol (VoIP) is fast replacing the traditional Public Switched Telephone Network (PSTN). In VoIP or IP telephony, your voice communications will be on data. VoIP phones allow voice, video, collaborative interactivity at a much lesser cost than traditional telephones. There's no hassle with phone lines either. It is essential for every Business Processing Outsourcing organization.

Analyze whether your current data network can handle the extra load from VoIP phones. If not, set up a network that can handle advanced network management. Plan on how you'll provide ethernet connection to all the new phones on the desks. After sorting out your capacity testing and network capabilities, comes the difficult part of choosing the right phone.

The best VoIP phones in the market are listed below with their product description. Breeze through it and find out which suits you best.

Polycom VVX 600
Excellent HD voice

Price – $195

Polycom is one of the leading business media phones. VVX 600 is an update to VVX 500. The touch screen facility is the cherry on top. Visually, the phone is great with a good user-interface. The centerpiece, a polished black plastic, is one of the best displays a desk phone could offer. The buttons are of good size and the handset is sturdy.

The phone's embedded with Polycom's own patented Acoustic Clarity Technology, audio quality boosting hardware components, and wideband audio codecs guaranteeing the most satisfying HD – voice. It supports 16 lines. As a bonus, it sports an integrated Bluetooth support.

Highlights

Polycom's HD voice
Touch Screen
Bluetooth
Voicemail support
Dual USB ports
Pros
Simplified user interface
Bluetooth Integration
Amazing display
Cons
Might be a bit expensive
Bluetooth quality is not reliable
Ratings – 4.8 / 5

Grandstream GXP2170
A cost-effective all-rounder

Price – $99

It the product of American Telecom's Developers. The design is top-notch with its 4.3 inch color LCD display offering multiple functions and sideline keys. It can support 12 lines and 6 SIP accounts. The security encryption technology ensures all the calls and accounts are secure. Bluetooth integration supports the users to connect to headsets and other mobile devices. For further hands-free support, the electric hook switch is provided.

It's sleek and power-packed design makes it an obvious choice for enterprise-grade IP phones.

Highlights

LCD display
Bluetooth integration
Wall mountable
Pros

5 XML programmable soft keys and 48 digitally programmable speed line keys are great for users to handle a large number of calls
Rich in features and desirable in looks
Cons
At times, the Bluetooth headsets need rebooting every 2 days once.
Ratings – 4.8 / 5

Grandstream GXV3275
Android blended desk phone
Price – $210
It blends the UI of android with desktop phones. With its 7 inch display, it looks more like a tablet with a handset. It is manufactured with integrated Bluetooth, gigabit ports, built-in internet browser, and WiFi. It supports up to 6 SIP accounts, 3-way video conferencing, 6-way audio conferencing, and phone book with a capacity of 1000 contacts.
The phone is powered with android version 4.2 with built-in apps. Skype, Google Playstore and Salesforce to name a few.
Highlights
Conference facilities
Wall mountable
Camera with privacy shutter
Integrated Bluetooth
Pros
Android interface makes it different from the rest of the phones
Ability to download applications
HD voice over handset is comparable to other leading brands
Sturdy video telepresence
Cons
It requires an MP3 upload for music
It's expensive
Rating – 4.8 / 5
Htek UC924
High end features at a low cost
Price – $90
The Htek UC924 is a Color Enterprise's VoIP phone. It supports up to 4 SIP accounts, five-way audio conferencing and 8 line keys. It is suitable for employees working with a bandwidth-intensive application. The phone sports a 3.5-inch display with G.722 audio codecs.
There are 4 soft keys and 10 hard keys. Only some of the keys are programmable. It's in-built with a LED indicator that alerts you about missed voicemail messages and calls. The menu is monochrome and you cannot change it. The only color display is the wallpaper.
Highlights
Anonymous call rejection features
Short Message Service and emergency calls
Local phone book that can store 1000 entries
Pros
Cost-effective
Programmable keys and basic color display
Cons
Monochrome theme is a bit dull
Speakerphone's quality is not up to the mark
Rating – 4.3 / 5

Yealink SIP-T19P-E2
Your go-to budget phone
Price – $45
It is an entry-level desk phone with better functionality. It can support only one SIP line making it ideal for low call volumes. The phone's screen is small, but with sharp features. The placements of buttons are solid.
It has a few specific buttons – redial, speaker, mute, transfer, mailbox and headset. Simple features guarantee easy usage. It supports 3 way conferencing that are not found on other entry-level phones
Highlights
Low cost
Three-way conferencing
Wall mountable
Headset features
Pros
Though a single SIP line, it is powered with full HD support
Highly affordable for bulk purchases
Cons
Sound quality is not as good as other brands.
Rating – 4/5

Polycom SoundPoint IP Series
Configurable for individual needs
Price – $70 – $520
It is the newest entry-level phone with HD voice quality. Same quality as the Polycom's executive phone is found in this one. It includes wideband audio codecs and Polycom's patented Acoustic Clarity Technology. Though the phone has less dedicated hard keys, the interface is easy to use. Soft keys are used for most of the business calling features.
Highlights
Sound quality
Simple user interface
Pros
Very useful for busy attendants, reception desks and call centers
Intuitive to use
Cons
Very small display
Reboots every time a change is made in the admin portal
Ratings – 4.5 / 5

Cisco 7900 IP Phones
User-friendly VoIP phone
Price – $200-$500
4 models are available in this series,
7931G – Suits commercial and retail businesses
7943G – High-resolution display and wideband audio
7945G – High fidelity audio with backlit color screen
7975G – Wideband audio and LCD display
All the models sport exclusive executive designs. Based on your needs and budget, plan your purchase.
Highlights
High fidelity audio
High-resolution display
Additional support for information
Pros
Supports optional key expansion
Customize XML based services to provide users with information.
Cons
A bit expensive for large purchases
Ratings – 4/5
VTech VSP736
Bags a few tricks not found elsewhere
Price – $110
It is a mid-range IP phone that can support up to 6 SIP accounts. Vtech has stacked the phone with specifications that are unique. It comes with 32 programmable keys, dual gigabit ethernet ports, local call recording, and DECT 6.0 support.
VSP736 has a large display with a white backlight. It has 4 soft keys, 18 hard keys and includes functions like call transfer, call holding, contact directory, and conference.
Highlights
Message indicator
Three-way conference
6 SIP account
Pros
Offers quite a few exciting features at this price
Call recording function is totally a win
Cons
Large display with very little functionality
Loudspeaker quality
Ratings – 4.6/5
Yealink T2 Series
Best entry-level phone
Price – $100 – $200
There are 3 models in this series,
SIP-T27P – SIP phone with a wide functionality
SIP-T26P – Good voice communications and a very large display
SIP-T25P – Best color display and HD technology
Yealink T2 series is designed with small businesses in mind, where large features are required for everyday tasks.
Highlights
HD voice quality
High-resolution display
XML browser
Pros
Very affordable 6 line phone
All the buttons are customizable
Changes on the web interface are immediately updates in the phone
Cons
Hardware quality could be better
Rating – 4/5
Grandstream GXP1400
Well worth the money spent on it
Price – $65 – $75
It is the company's super affordable, best launch. This model is power-packed with 2 SIP account, HD voice quality, LCD display, 2 LED line keys, 3 XML programmable and contact-sensitive soft keys. It supports standard audio codecs, however, not as crisp as Polycom's.
GXP1400 is lightweight and compact, the base and handset might feel very hollow if you're used to sturdy Polycom handsets.
Highlights
Operating system – Linux
Easy to use
2 line SIP
HD audio quality
Pros
It is on par with other expensive VoIP phones
The phone can be purchased for a wholesale price of $40 from online vendors, making it the cheapest available VoIP phone
Cons
Small graphical display and no backlight.
Rating – 4.9/5