Wind Scribe Review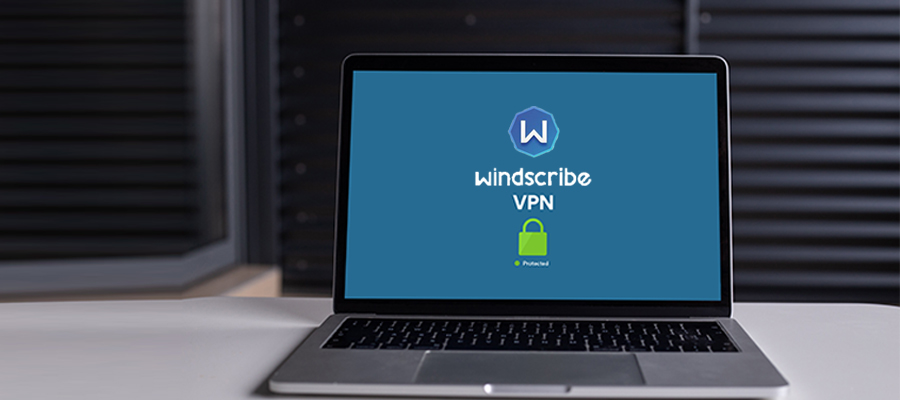 Windscribe flaunts fast speeds, is quite impressive for Netflix, and is ideal for torrenting. The mobile app is restricted, and those looking for a secure VPN with excellent support might get disappointed since it lacks the live chat feature here.
Pros
Excellent Speed
Unlimited parallel connections
Unblocks Netflix
Strong security
Enables P2P
Performs in China
Zero logs
Cons
Lacks Live Chat Support
Very Few Mobile Apps
Features and pricing
Windscribe offers a free subscription, and it's quite impressive for a no-cost VPN, it is still pretty restricted as compared to premium choices. The best thing is that you can get access to servers in just 11 countries and get 10GB of bandwidth to play with a monthly basis. You will not get any Open VPN configuration, but you stay protected by IP address leaks and ad-blocking. P2P is enabled; however, you can't expect much from only 10GB of bandwidth per month.
Here is all you need to know to decide if Windscribe might be the best VPN for you or not: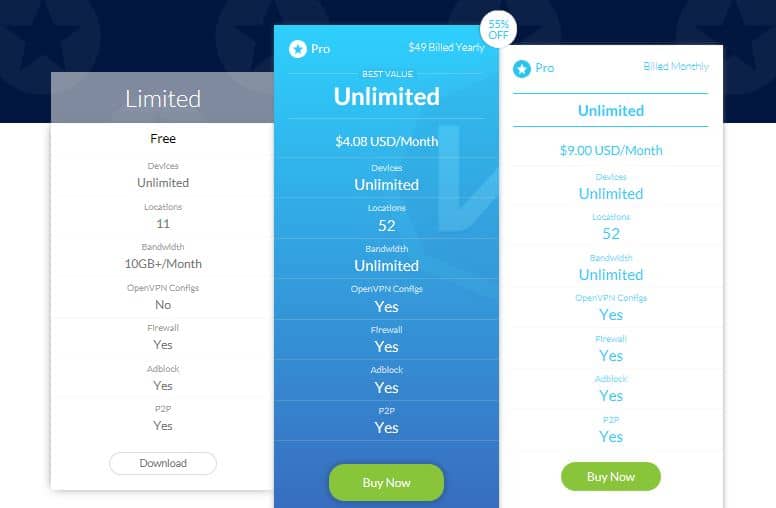 Apart from the free version, there is a single paid version available for which you can be charged on a monthly basis or annually. The monthly subscription will cost $9/month, but the annual version comes with a steep discount of 55%, making it $4.08/month.
These prices are pretty average for a monthly and annual subscription, right? Though many providers go beyond this and promote even great discounts on two or three-year plans, you can't expect the same from Windscribe.
When you choose to pay, you'll be amused to find a variety of payment options like Bitpay, PayPal, PaymentWall, and most importantly, credit cards. The ease to pay with bitcoin will be quite beneficial for privacy-conscious users. If you've got the free trial in your mind, then you will not be turned down by this VPN. It provides a three-day money-back guarantee, the stingiest one can get, especially when you compare it with most providers offering 14-day and even 30-day guarantees.
The fact that enables offset is that an account will make you connect to countless devices at the same time. This is one of the best features barely found in other providers as they tend to restrict the number at two to six per account. We've observed other providers offer endless connections, so this could be a way to help gain some initial fame. It won't be a matter of surprise if a limitation follows into effect down the road.
Windscribe apps are present for Windows, macOS, iOS, and Android, and the VPN is configured for Linux and specific routers. Browser extensions are present for Chrome, Firefox, and Opera, but they are HTTPS proxies that don't provide similar security as a VPN.
Once signed up, you'll get access to a network larger than 600 servers in nearly 50 countries all around the world. The paid subscription allows you to have unlimited bandwidth and allows P2P, so torrenting must not be an issue here.
When it comes to security, Windscribe is quite competitive with having 256-bit AES encryption and the best forward privacy. It also swanks a firewall which guards against any type of leaks like DNS and IPv6. The firewall provides a more advanced option to a kill switch, so don't need a separate one. This is not it; you'll get a plethora of protocols available having Open VPN, IKEv2 and SOCKS, and Stealth (a version of TCP running over OpenVPN).
You can combine the VPN and provide a suite of extra privacy options along with the browser extensions which include ad-blocking and "anti-social" settings.
Setup and interface
Once you've set up your Windscribe account, downloading and installing the apps is a no brainer. As per Windscribe's description, its apps are "minimalist clients," which will become popular among the beginners who prefer to keep it simple.
Desktop
Once you're logged into the desktop client, you'll discover that the Windscribe app is very compact. The main screen displays your present IP no matter your VPN is connected or not or whether or not the firewall is on. The last one is Windscribe's version of a kill switch and disconnects the internet if the VPN connection is lost. You can easily switch it on or off from this primary screen, which is a smooth feature not generally found in other VPN clients.

The server list will get opened down on clicking the location dropdown icon. You can choose a server depending on country and will get by default connected to the optimal server for that location. To be more certain, you can click the arrow to the right of the country name and check servers based on city, every server has its own witty name.
Once you're connected, the entire app will transit color from gray to bright blue which is a smart way of telling you when you got connected or if you've lost it.

You're supposed to click the menu icon in the upper left-hand corner and choose Preferences to access the settings menu. You then get the five tabs to choose from.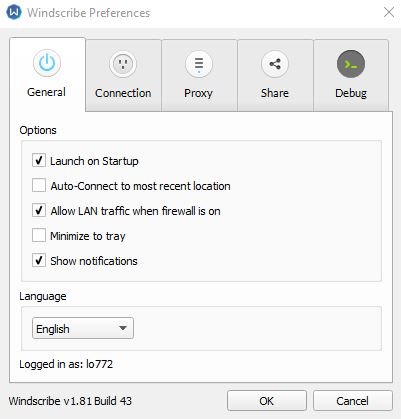 In the General screen, you'll find easy startup settings and the choices to switch to another language (trust us, there are plenty available).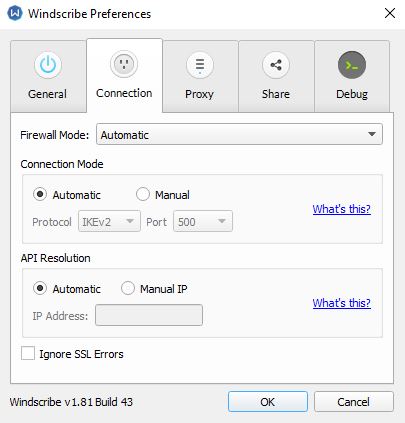 On the Connection tab, you can fix the firewall settings and change your protocol. There is also a place to enter your IP address manually. This can be requested from Windscribe if you're facing an API connectivity error. This occurs if DNS requests are being blocked; let's say by country or business firewalls.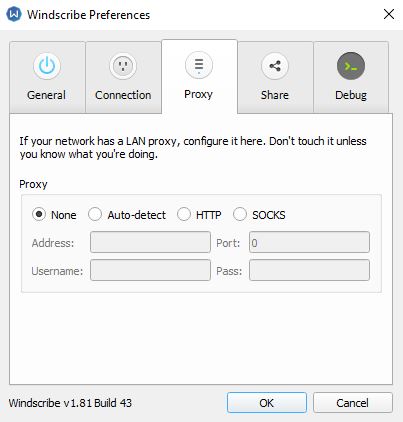 You can configure a LAN proxy if needed on the next tab, labelled Proxy.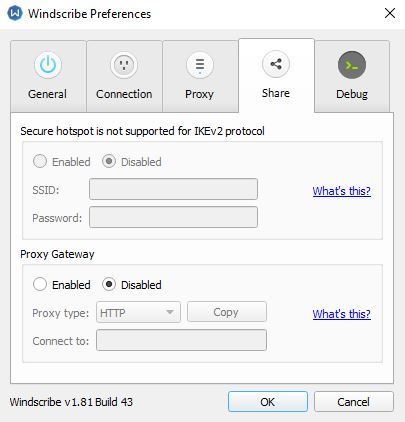 Then you get the Share tab where you can configure your own wifi hotspot or make your own proxy server.
In the end, the Debug will provide you choices for sending or viewing logs and disabling IPv6.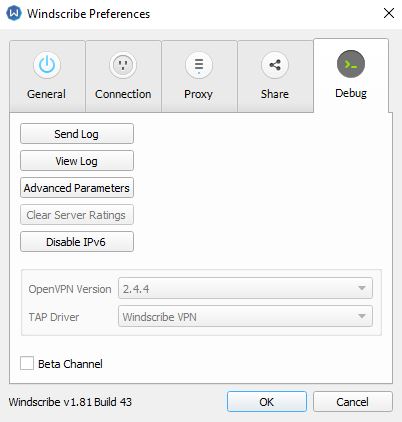 Mobile
The mobile application is appealing and well-designed but is very limited. The primary screen looks similar to the desktop version, with a power button and server location dropdown menu. On connecting to the server, the interface will turn bright blue.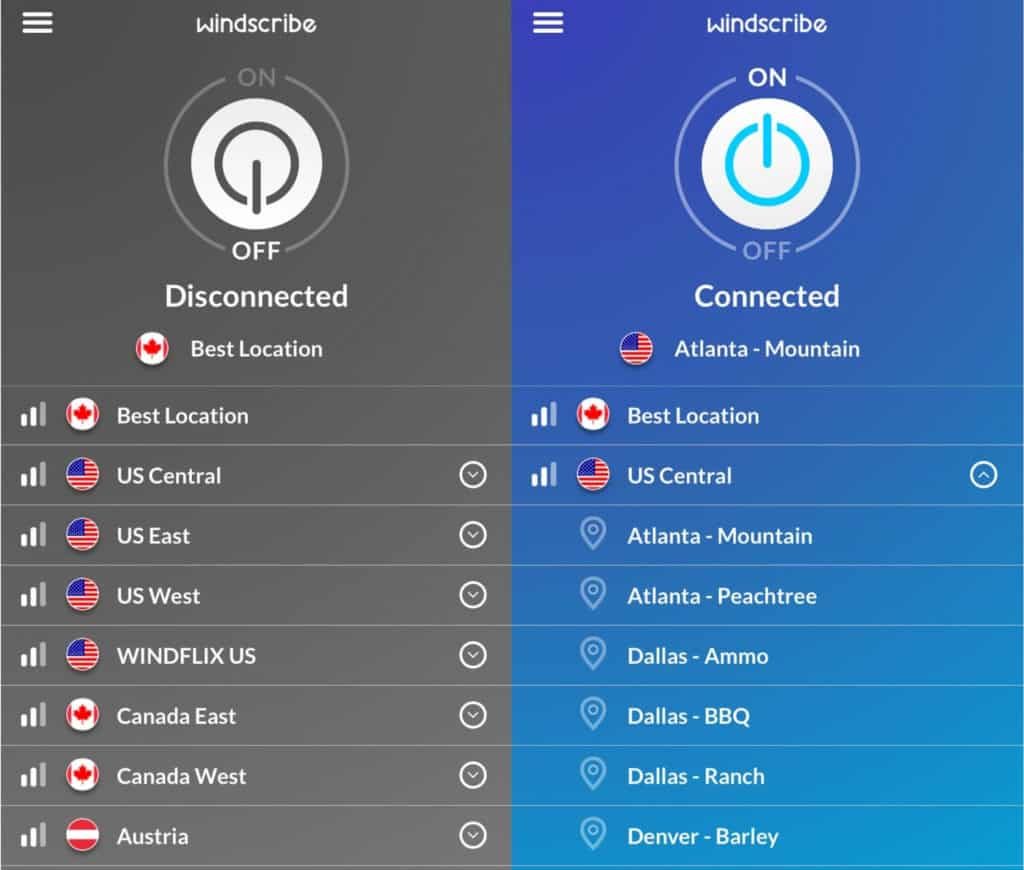 You've to click the menu icon and select Preferences to take you to your settings.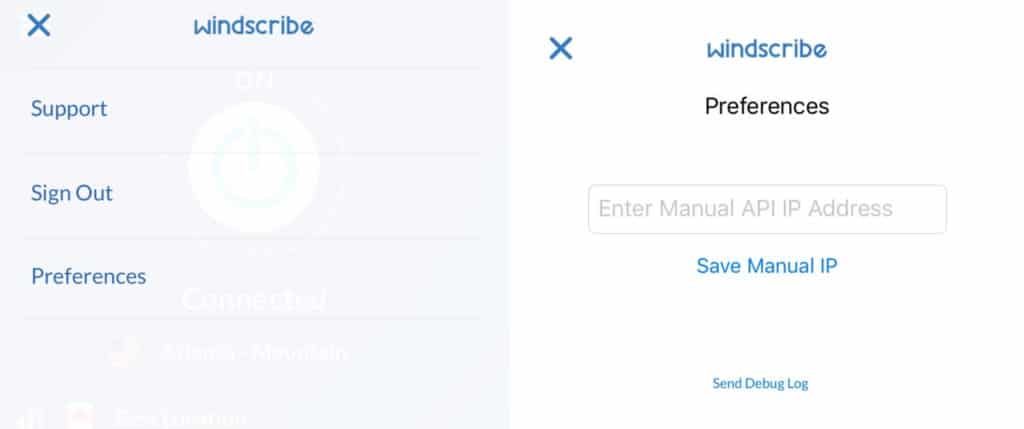 It must be labeled 'Preference' as it provides only one option here and that's too providing a manual API IP address. This app is ideal for the beginners but might disappoint the advanced users.
Servers and performance
Windscribe provides comparatively a small network of servers including about 600 in more than 50 countries. These countries are mostly located in the US, which is amazing for those looking to unblock the US, streaming services. But what might make you amazing is the fact that it doesn't need disconnecting first, you can do so with simply clicking the one.
You can choose your server depending only on a country or a particular city. All servers are ideal for use with P2P file sharing except if they're marked otherwise (a P2P icon with a strike through it). We checked some of Windscribe's servers for browsing, streaming, playing online games, and downloading files. The experience was great overall. Connecting to and changing the servers was fast and effortless, and we didn't come across any dropped connection. Playing online games got no glitch and streamed 1080p across different servers without buffer.