Hide My Ass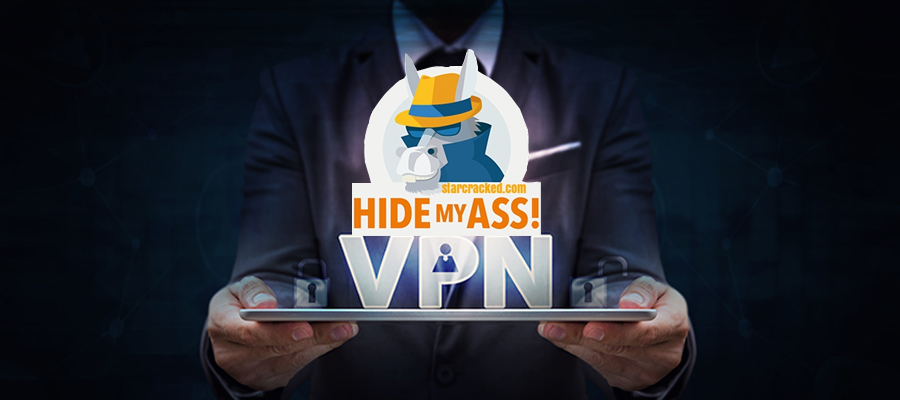 HideMyAss! Performs remarkably when it comes to unblocking streaming sites but disappoints with its speed.
Pros
Unblocks Netflix
Allows P2P
Live chat
Strong encryption
Cons
Logs IP addresses
Fairly expensive
Doesn't work in China
Hide My Ass! (HMA!); the company is located in the UK; it has come to great fame after its vast number of subscribers – today 400 million-plus. The providers have seen the flair of controversy and conflicts regarding user privacy. It recently updated its service to redeem itself and winning back the goodwill with its subscribers.
We put it on a test to know how much it has improved and whether it's good to buy.
Features and pricing
Hide My Ass! Provides similar product with different prices depending on the period of the term you sing up for. The price range is a bit of a higher side, which could be a big disappointment for many users. A 12-month plan will cost you around $6.99 per month, which, no doubt, is quite expensive than the average price for a similar term. Wait! There is more to it – Most top VPN providers will provide you with an extended plan; for illustration, a two – or three-year term with even higher discounts.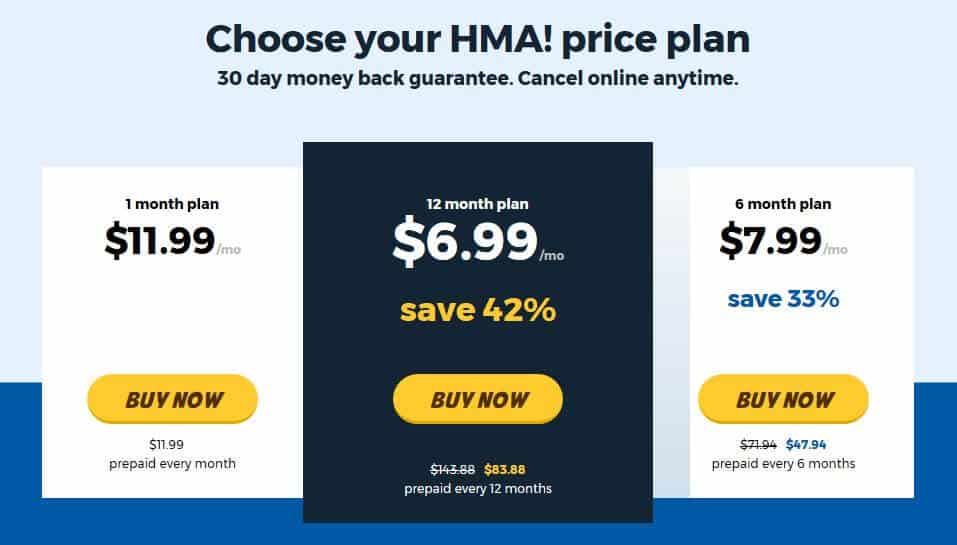 If you don't want to sign up for a one-year plan, you can go for a six-month plan that HMA! Offers for a $7.99/month or you can also pay every month for $11.99/month. These prices are a bit overpriced when you compare the same services with other providers.
The best part with HMA! Is the ease it provides its users on the payment options. In short, it accepts almost every Payment options like major credit cards, PayPal, and Union Pay. However, if you're more concerned about your privacy than bitcoin and other cryptocurrencies aren't practical payment methods for you.
Hey, but what if I won't get satisfied with the services?
You don't have to worry about in such case as HMA! Also offers 30-day money-back guarantee. You can buy an annual plan only if you found it satisfying and serving otherwise your money will be refunded.
So what is the VPN offering here for your money? Hide My Ass! Possess a network of 850 plus servers across 180 countries. While some servers allow P2P files sharing others focus on providing access to streaming sites. Apps perform on Windows, macOS, iOS, and Android. The VPN can be configured manually with Linux and some routers. Pre-configured routers are also available as an option.
HMA! Provides secure encryption, perfect forward privacy, automatic wifi protection, and the desktop apps and the desktop apps come with a kill switch which is pretty attractive from a security point of view. However, the logging policy problem that troubled the services earlier remains, so privacy remains an issue.
Setup and interface
Getting on with Hide My Ass! Is simple and the latest version of app is packed with many friendly features. Once singing up for your account, you'll get a license key. You can use this or your credentials (user id and password) to log into any app.
Desktop
On launching the desktop client and logging in, you'll come to the screen. You have to click to access the main screen of the app. Here you'll get three options for modes: Instant Mode, Location Mode, and Freedom Mode.
You can click the arrow, and you'll get connected to the fastest server for your actual location in Instant Mode.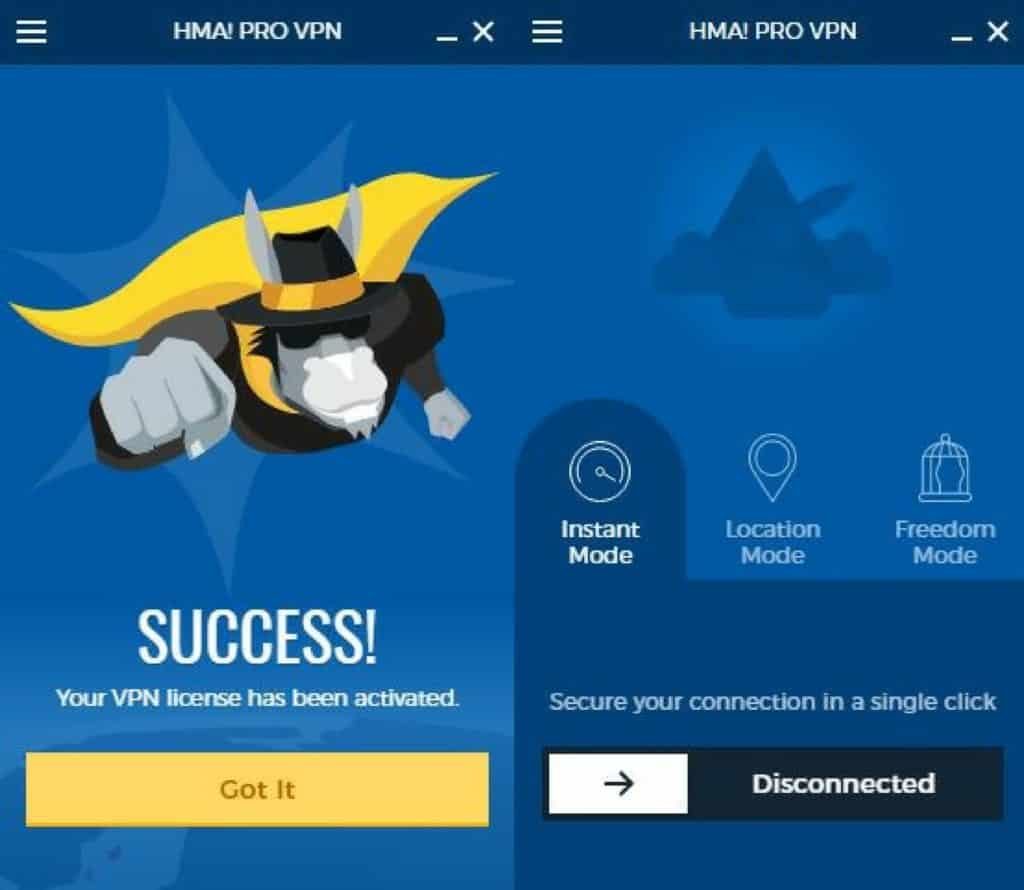 You can choose which server you connect to in Location mode. Click Change Location to check your options. There is a dropdown list which allows you to select servers depending on the various criteria. All will get through an alphabetized country list. On clicking the arrow to the left of each country, name will get you specific locations within that nation.
https://cdn.comparitech.com/wp-content/uploads/2018/08/hma-preferences-1024×918.jpg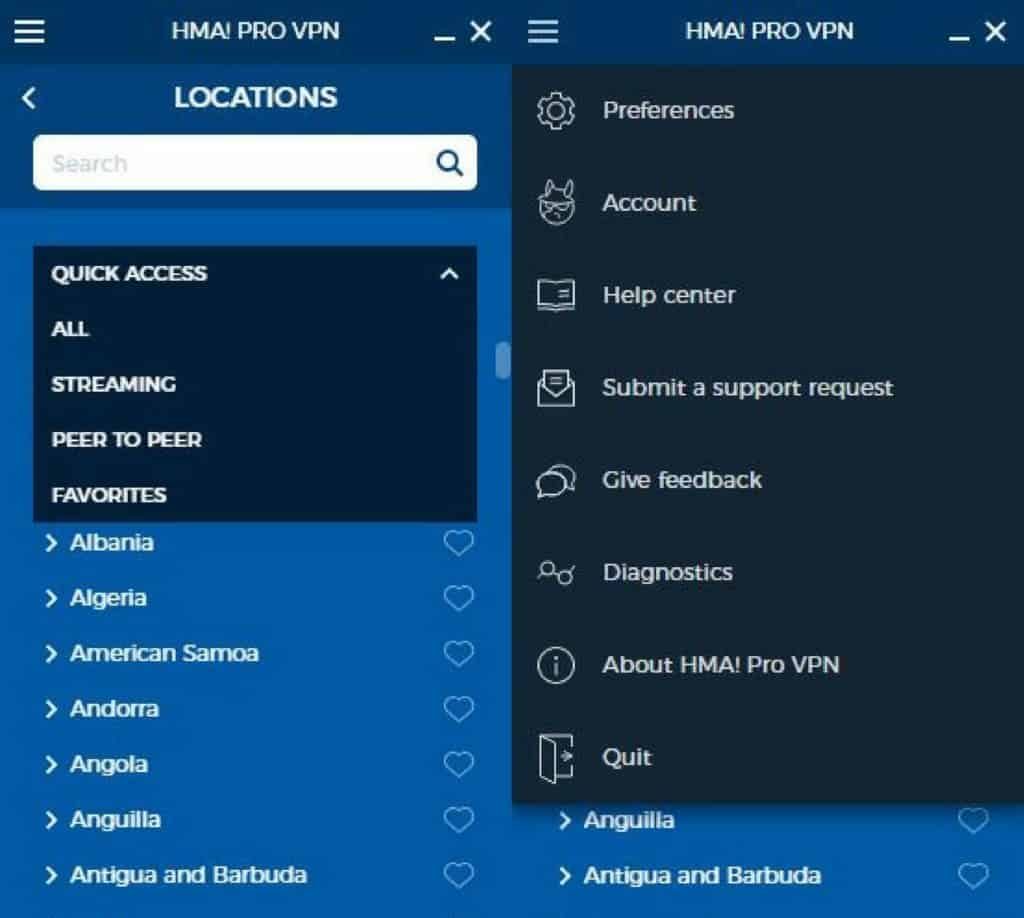 Quick Access shows you a list of servers that you've got connected recently along with some recommended choices. Streaming will give you an option of two servers fit for unblocking popular streaming services like Netflix, one in the US and one in the UK.
Peer to Peer shows you all servers that enable P2P file sharing. At last, there's the Favorites choice; to score a server as a favourite, you can tap the heart to the right of the server name.
On coming back to the main screen, there is one more option here, which is Freedom Mode, which is aimed at users who want to avoid censorship. This mode will help you connect you to a server in the nearby country that is deemed to be free of censorship.
You can access the Settings on clicking the menu icon in the left-hand corner on the top of the main screen and selecting Preferences. Here you'll get three tabs: General, Network Security, and Kill Switch. In the General screen, you can modify your startup choices like starting when you turn your computer on or when the app launches.
You also get a Personal Privacy section covering one option that links to Quick Access in Location Mode. You can uncheck the box to hide your current history.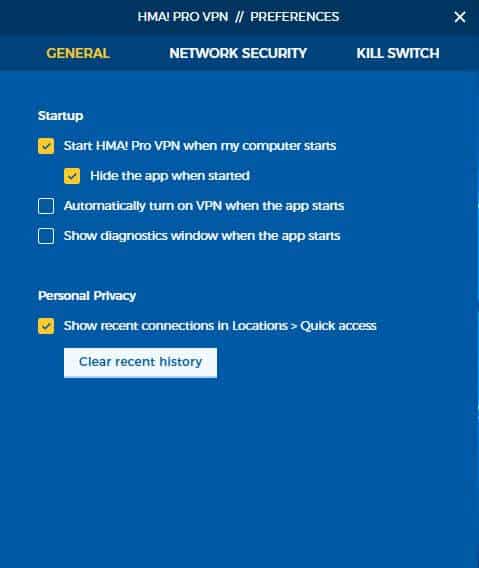 Let's check the Network Security screen next; in this section, you can select settings for automatic wifi protection. You can also turn on the IP shuffle aspect which protects your location from getting detected by periodically altering your IP address. There is also a feature in this screen which allows you to use TCP with Open VPN. But this is only suggested if UDP is blocked or regulated. Though TCP is more stable, UDP is typically faster.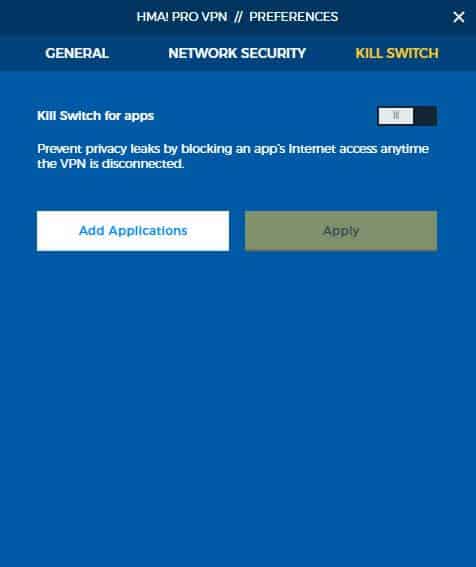 At last, we reached the Kill Switch tab, where you can toggle on this option so that it performs for every application. You can also include applications and decide whether or not to use it on those.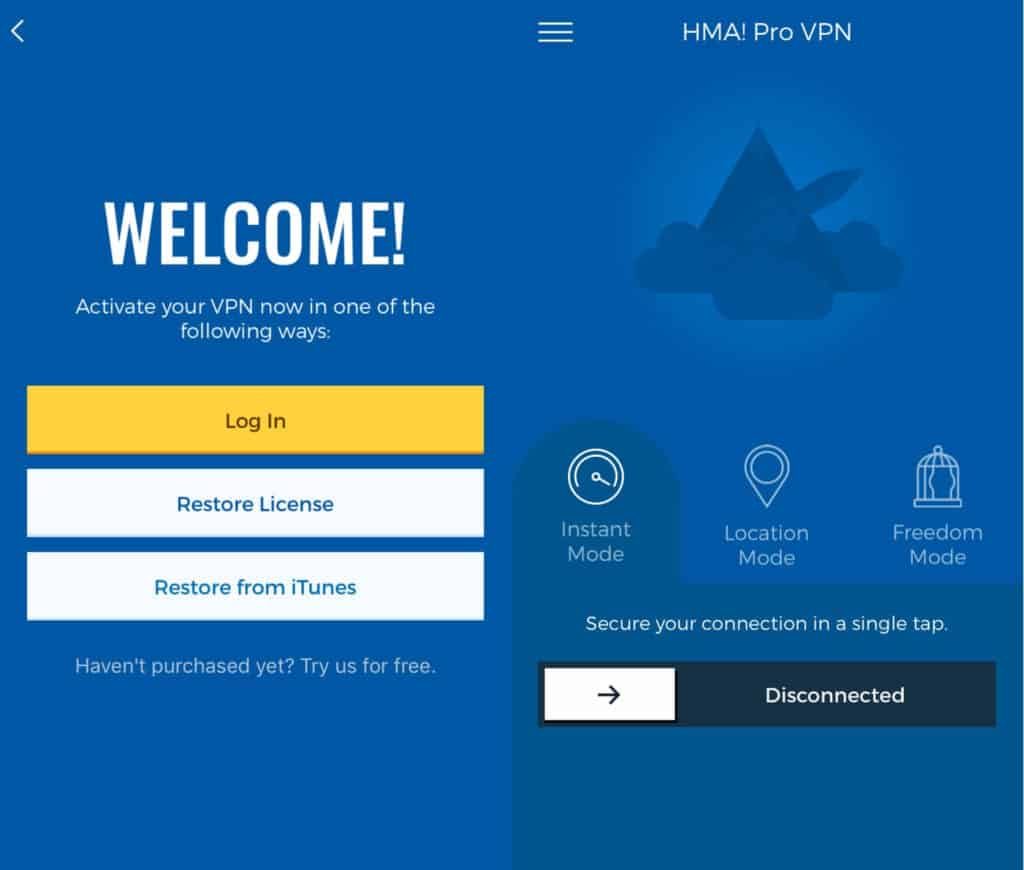 This is quite a robust app, and it's both stunning and user-friendly.
Mobile
Most providers have mobile apps that are nothing as compared to the desktop version. However, HMA! Made sure its product is perfectly streamlined and the iOS app looks identical to the Windows version.
After logging in, you'll see the main screen, which is similar to the main screen in the desktop app. Here you can decide out of Instant Mode, Locations Mode or Freedom Mode which mode you want.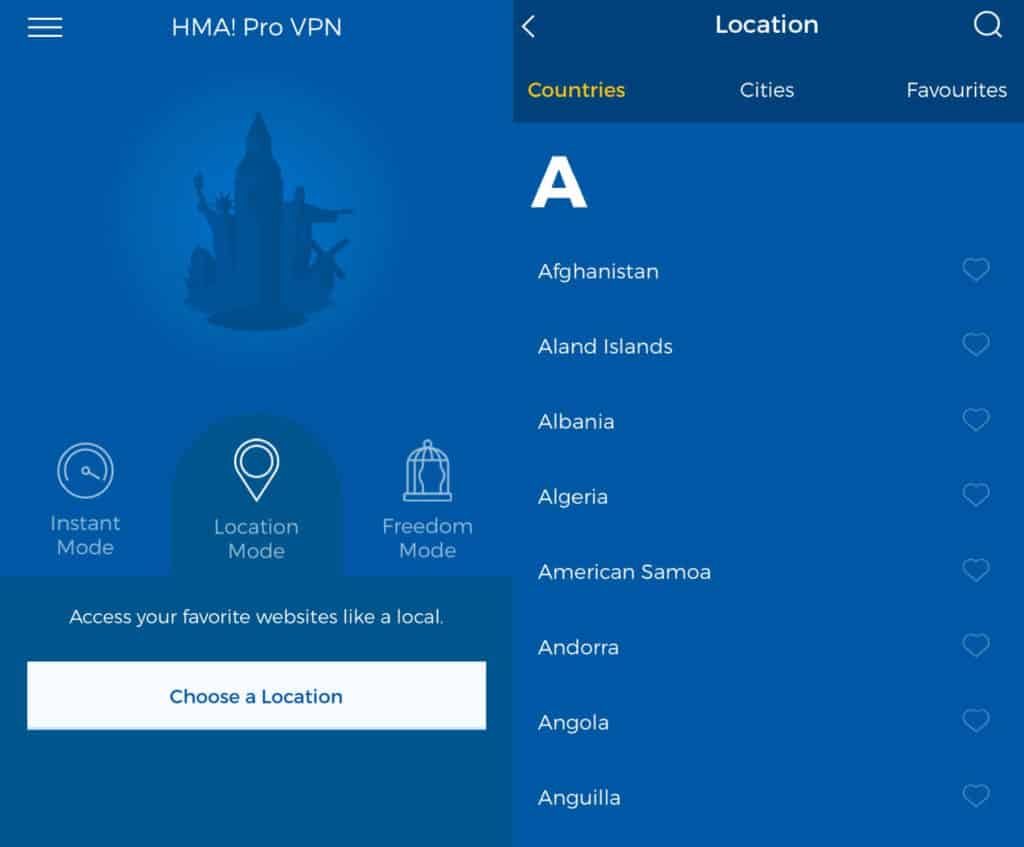 The only real difference is that when you choose Location Mode, your options are displayed in a different way. You'll get three tabs: Countries, Cities, and Favorites, but users might miss the extra options found in the desktop client like Streaming, Peer to Peer, and Quick Access.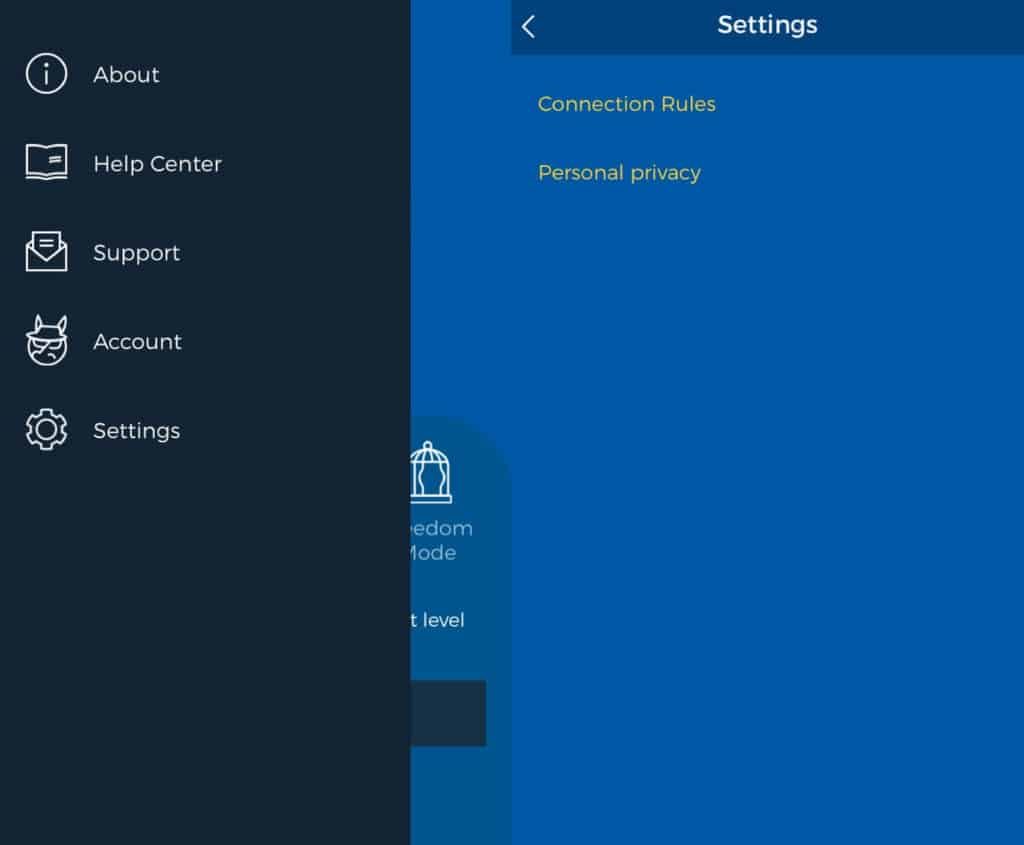 You'll have to go to the Cities list and search the Liberty Island server under US, New York to access the streaming servers from the app. You can also get the UK, Donkey Town server in this list to access the UK Netflix and BBC iPlayer.
Ongoing further, you can also access it by simply clicking the menu icon in the top left-hand corner of the screen and choosing Settings. You will get two options here: Connection Rules and Personal privacy.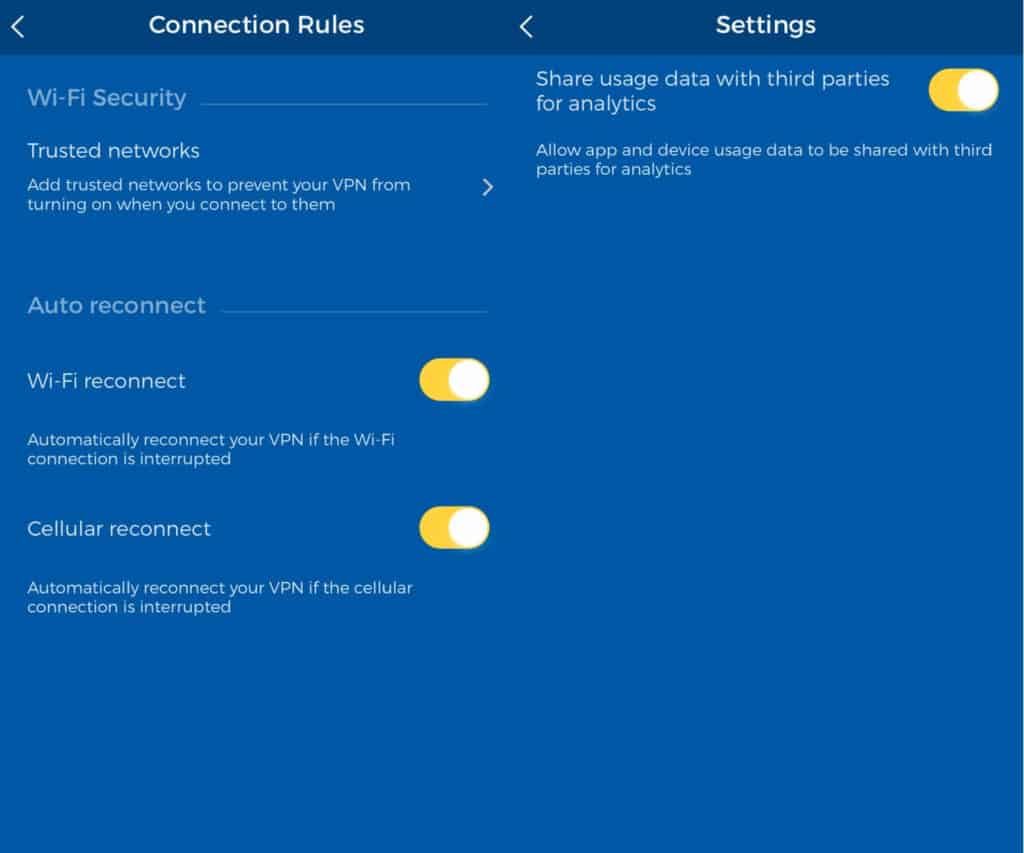 You can adjust wifi security settings and choose whether to auto reconnect when wifi or cellular connections are troubled in the Connection Rules section.
The Personal privacy section has only one option: Share usage data with third parties for analytics, which can be a matter of consent to "enable app and device usage data to be shared with third parties for analytics." Keep in mind that this is allowed by default so it could be the first thing you want to turn off.
Overall, this is a smooth and user-friendly app, but some users might miss those extra features like kill switch and the option to switch protocols.
Servers and performance
The Hide My Ass! Network includes more 850+ servers which covers more than 190 nations around the globe. Some of these are virtual servers which ever a customer service executive will not be able to tell you.
As we told you earlier, HMA gives many choices for the right server; it has different modes and the potential to mark servers as favourites. Servers enabling P2P are marked with a P2P sign.
We conducted a test on various servers in the US and the UK to check the performance regarding browsing, streaming and downloading. In general, when browsing, there were insignificant problems, besides being a noticeable slowdown in loading time of the page when connected to a UK server. This is very common for geographically distant servers (the tests were conducted in Toronto, Canada)), but it can become frustrating, especially for users who already work on slow internet speeds.
We didn't get any lag or buffering issue while streaming 1080p using any of the test servers and could play online games without any major issue.
HideMyAss! Speed test performance
Most speed tests are designed to be as empirical as it could. We use a Canadian test server to connect to VPN servers in the US, the UK, Australia, Hong Kong, and Germany. We download a test file (50 MB in size) from a US server for each location. This is executed four times at an interval of six-hour a day. The average download speed for each test is noted, and the aggregate data is shown.
You can judge from the Simple chart below how HMA! Perform and competes with the other VPN services we've tested till yet. When it comes to median download speeds, it matches the performance of some great VPN services while it is not lightning fast.
On clicking the Detailed tab, you can observe that outcome isn't as tight as some of the other test VPNs. This means that you can expect some inconsistency in terms of speeds.
You should keep in mind that these tests aren't absolute and can only work as a general review of the performance you might get. The inherent instability of the internet adds an essential aspect of randomness. What else, you can expect longer waiting times with a slow connection, and may be smaller or larger discrepancies.
Does HideMyAss! Unblock Netflix?
Yes, it does! Hide My Ass! Unblock Netflix, but you can't expect it to connect to any server and run simply. When we tried to run it on random servers with US Netflix using the desktop client, we got no luck here. However, if you choose the Streaming option from the dropdown within Location Mode, you'll get two alternatives: a US server (USA, New York, and Liberty Island) and a UK server (UK, Donkey Town). Remember that in the mobile app, you've to search these within the Cities list in Location Mode.
On connecting to the US server, we got access to Netflix without any problem. Connecting to the UK, one provides access to UK Netflix as well as BBC iPlayer. Most providers only focus on giving US Netflix access; therefore, it's soothing to see one that also tries to provide access to the UK library. What else, BBC iPlayer is certainly cracking down on VPN use, so the potential to unblock this service is a good add on.
If you're looking for Amazon Prime Video, you might have to go elsewhere. HMA! Is having trouble unblocking this service at this time and a customer support representative informed us that there is no estimated timeframe for when it might be working again.
Does Hide My Ass! Perform in China?
Hide My Ass! Is not reliable in the case of China. It worked earlier, but now HMA! Responses in support forums have pointed towards the fact that the service will no longer work for some users. You can try your luck, but if you want a credible China VPN, you must check other options.
Security and privacy
Hide My Ass! Is located in the UK, which means it comes under data retention laws. The UK is also a Five Eyes (and Fourteen Eyes) country, which implies that it's part of an alliance that enables tracking by external governments. Plus, it's home to the Snooper's Charter which imposes rules on British ISPs that highly affect user security.
For most VPNs, data retention regulations in their home country are not a problem. This is because they work with a real no-logs policy whereby they don't create any traffic or connection logs. Even if they maintain connection logs, they can't be limited to the individual user.